About the Music
The stated and intended effects of this music are based on several factors, including the study of many psychological and music therapy sources on the effects of ragas and their notes, our knowledge of the ragas, and the intuition of the performers. In addition, medical research was conducted in two Madras hospitals in the winter of 2001 by Dr. P. Bharathi, and demonstrated positive preliminary results. For one, blood pressure was lowered in a group who listened regularly to Sumanas, compared to a control group who did not listen to the recordings.
Ragas for Health (2-CD Set)
Awakening Peace, Vriddhi and Sumanas were recorded in Chennai by violinist Michael Braudy, with noted veena player and medical doctor, P. Bharathi, who has pioneered music for therapy in India. These recordings evoke the specific benefits of ragas for health. Awakening Peace and Vriddhi can be ordered for a discount here as a pair.
Purchase CD
$30 | ADD TO CART
Awakening Peace
Healing Ragas for the World
Preview
Rag Jaijaivanti induces a feeling of inner calm, joy and contemplation.
Dr. P. Bharathi – veena
Michael Braudy – violin
K.V. Balakrishnan – percussion
Rag Shuddha Danyasi, an uplifting raga, generates feelings of happiness and inspiration.
Dr. P. Bharathi – veena
Michael Braudy – violin
K.V. Balakrishnan – percussion
Vriddhi
Ragas for Energy and Cellular Growth
preview
Basant Mukhari, a morning raga for relaxation and natural invigoration.
Dr. P. Bharathi – veena
Michael Braudy – violin
K.V. Balakrishnan – tabla
The human endocrine system exhibits it's own internal rhythm. The pace of Rag Malayamarutham is intended to regulate this internal rhythmic flow, thereby helping to maintain a state of physiological balance.
Dr. P. Bharathi – veena
K.V. Balakrishnan – percussion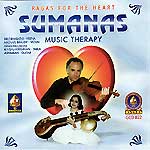 Sumanas
Ragas for the Heart and Circulatory System
Preview
Carnatic Todi is an evening raga, with the rasas, or moods, of devotion and sympathy. The combination of lowered notes emphasized in this recording is intended to produce a soothing effect on the emotions, a result of the cascading downward flow of notes which may benefit the circulatory system by regulating blood pressure.
Dr. P. Bharathi – veena
Ashaman – guitar
K.V. Balakrishnan – tabla
Rag Shubhapantuvarali, a raga of devotion, also acts on the heart. (The Sanskrit word Sumanas, can be translated as "Good Heart"). The rhythm of the recording approximately matches that of the human heartbeat.
Dr. P. Bharathi – veena
Michael Braudy – violin
K.V. Balakrishnan – tabla
Rag Pilu evokes sympathy and devotion, like the 2nd track, and also emphasizes the emotion of love.
Dr. P. Bharathi – veena
Celtic Afternoon Concert
(Live at Sufi Books, NYC)
Recorded live at Sufi Books, February 8, 2003, Celtic Afternoon Concert features spiritual music of Ireland and Scotland with traditional & contemporary selections of the lyrical and wistful music of the heart soften and brighten a winter afternoon.
Michael Braudy – violin
River Alexander – guitar, harmonica, fiddle and didgeridoo
Preview
From the Ganga to the Tay
Concert Reading of Poetry with Music, From the Ganga to the Tay, an epic poem by Bashabi Fraser, is an imagined conversation between two rivers, the Ganges of India and the Tay of Scotland. In Edinburgh on August 9, 2011, we performed the poem at the Gorky Parrish Church. The hypnotic charm of the rivers was brought alive by actor and poet Chrys Salt on the Ganga and storyteller and writer Donald Smith on the Tay, with Michael Braudy on the violin weaving ragas and Scottish tunes together. Videos by Kenny Munro, co-author of the book, were projected above us on a screen. It was a magical evening for performers and audience, and we had a warm reception. We would like to share the evening with you in this recording.
Michael Braudy, violin
Chrys Salt and Donald Smith, readers
Preview
Hymns From the Rig Veda
Composed four millenniums before our own time, the Rig Veda remains the most ancient living text. In its entirety, it is a collection of over 1000 hymns, which contain the mythology of the Hindu gods. Maintained by an unbroken oral tradition, it is still an active, sustaining force in the religious and philosophical tradition of India.
Several of these Hymns, translated by Jean Le Mee, are brought to life in a live reading by Chrys Salt, with the improvised music of Michael Braudy on the violin.
Chrys Salt – voice
Michael Braudy – violin
Preview